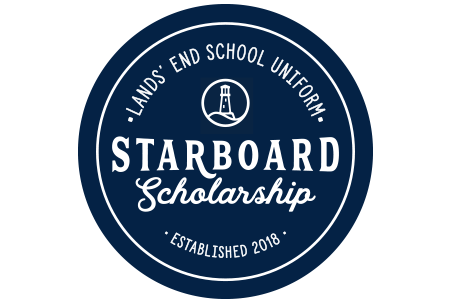 THE LANDS' END SCHOOL STARBOARD SCHOLARSHIP
The Lands' End School Starboard Scholarship acknowledges and rewards students who display exceptional leadership skills. Why "Starboard"? You probably know it means the right side of a ship, but the term is actually derived from "steer board," because early sailing vessels were steered by a paddle on the right side of the stern. The Lands' End Starboard Scholarship recognizes the next generation of young leaders as they steer us into the future.
Students attending Lands' End Preferred Schools in grades 8 through 12 are eligible to apply for one of five scholarships worth $5,000 for school or college tuition.
2022-2023 APPLICATION NOW AVAILABLE
Applications will be accepted now through January 19, 2023 or until 1,000 applications have been received. Schools must have enrolled with Lands' End School by 1/19/2023 to be eligible.
To learn how to become a Preferred School for the Lands' End School Starboard Scholarship, please click "learn more."